Click to play this free trailer and take a quick look at some of the finest girls in leather clothing on the web.

Sample clip duration: 1 minute

Welcome to Leather Fixation, with the finest Girls in Leather Clothing, a site dedicated to anyone who loves images of elegant, beautiful women wearing the finest leather.

If you have been searching for original unique content of women wearing leather clothing then let me show you around as this is exactly what you have been searching for. I know and understand the fixation with leather. It has many styles and many guises and I can satisfy most of my members most of the time, if not all of the time.

So many sites use leather in the name only to disappoint when 80% of the content is latex, and PVC. Leather Fixation is 100% leather and many different garments, not just pants, but so very much more.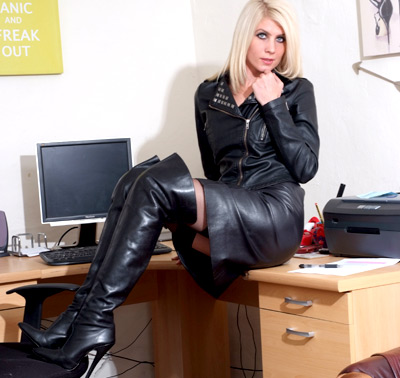 I love to see women wearing leather. The more gorgeous and sophisticated the woman the more turned on I get. Sometimes I like to see them raunchy and sexy and posing like it is a private show just for me. Maybe they are wearing panties under their leather skirt, maybe not!!

Sometimes I imagine a full length trench coat thick hard leather and when it is opened it reveals no more outer clothes just stockings, boots and gloves. Pure delight.

I know some of you wish to be totally subjugated by these beautiful women wearing leather, others love to see stunning women in leather overpowering each other. That's the whole point isn't it lots of wonderful scenarios to enjoy and now updated every 3 days. No more having to wait!

CLICK HERE TO JOIN NOW AND BE IN THE MEMBERS AREA IN SECONDS!
3 Brand New Never Seen Updates Every Single Week!
Yes it's true due to popular demand Girls in Leather clothing will be updated every 3 days without fail. No more waiting a week for each update from now on you can enjoy fabulous brand new unique picture sets and video much more regularly and remember this is the only site totally dedicated to bringing you gorgeous girls wearing Leather.

If there are any pictures of girls without leather it is because they are putting it on!

With photos sets and videos of beautiful women who love to wear leather plus sets of real wives and girlfriends all wonderfully british and so bloody sexy.

Gigabytes of Pictures &
Videos all fully downloadable & updating every 3 days!
Multiple Fully Downloadable Formats


DOWNLOADABLE FORMATS
All new videos available to download to your iPod or MP4 player! plus as always ready to view online or download to watch on your PC, Apple Mac or TV

PLUS all picture sets can be downloaded in zip files!

Here are the very latest updates for PC, Mac and Mobiles:

follow on Twitter @Raifhawkes Follow on Face Book

Next Update 25th April 2014








Cassie loved being encased in this long ful leather skirt and the tight blouson leather jacket. She posed around for awhile and then slowly started to do a striptease, but of course on this site sge ended totally naked apart from the leather jacket.

Name - Cassie
Clothing - Jacket





Updated 22nd April 2014








Not wanting to take ourselves too seriously and that we can appreciate shiny sometimes, we have put Louise in the bright blue PVC dress and combined it with leather boots and leather jacket of course..

Name - Louise
Clothing - Jacket





Video Updated 19th April 2014

Oh goodness me the gorgeous Leanne is helping Miss Catherine into her leather clothes and I am sure the pair will really make a meal of getting dressed, they always do.




Updated 16th April 2014








Ruth likes nolthin g better than coming into work with the sole intention of winding us all up and of course, being as sexy and as lovely makes it really easier for her.

Name -Ruth
Clothing -Skirt / Boots





Updated 13th April 2014








Aalyia is dressed for work and she didn't put on any panties, but then she knew how the boss likes to be teased especially when she is wearing leather gloves.

Name - Aalyia
Clothing - Gloves


Video Updated 10th April 2014

Wrapped up tight in her leathec coat Kaylee loves the feeling that all that leather gives her. The smell, texture and of course the sheer sexual pleasure, so of course she likes to share her pleasure with us.




Updated 7th April 2014








Honey has a certain super special thing that members enjoy very much and she loves to show off especially when wearing a tight leather skirt and leather boots. Enjoy..

Name - Honey
Clothing - Skirt Boots


Updated 4th April 2014











Heather likes to feel leather against her skin and enjoys the feeling of the Tawse in her hand. She knows how much pain that can inflict and is looking forward to using it.

Name - Heather
Clothing - Lingerie


Updated 1st April 2014








Tight leather pants will rarely look better than on the arse of this sweet girl next door. Hayley is genuinely a girl that loves to wear leather and looks so good doing it.

Name - Hayley
Clothing - Pants





Video Updated 28th March 2014

Miss Louise wearing tight leather skirt, boots and leather jacket loves to show off whilst wearing all this leather and enjoys knowing you are watching her.




Updated 25th March 2014








Taking things a little more seriously Lucy likes to make sure that Lana knows who exactly is the boss in this relationship and it looks like Lana might quite like it that way.

Name - Lucy and Lana
Clothing - Boots





Updated 22nd March 2014








Black leather heavy trenchcoat really suits Cassie as she poses just for us. Corset underneath and thigh high boots, she certainly looks like a woman that means leather business from head to toe.

Name - Cassie
Clothing - Trenchcoat





Updated 19th March 2014

Miss Sammi is back and don't we just lover and her sweet body! A lady that was made to wear leather and enjoys every second that she is encased. This video has Sammi putting on tight leather pants and ensuring we get lots of wonderful close ups.




Updated 16th March 2014








Lady coffee coloured temptress and tease, but she loves to add a little pain to her tease. Gentlemen form an orderly queue and Lady will be with you soon!

Name -Lady
Clothing -Femdom





Updated 13th March 2014








Louise has the best legs going, long and slim and perfectly shaped, so the perfect legs to place in these tight leather trousers.

Name - Lady
Clothing - Pants


Updated 10th March 2014

Wearing a tight soft smooth leatherjacket and leather boots there is nothing that Honey enjoys more and a little self pleasuring goes a long way to making her week end.




Updated 7th March 2014








Meet Sarah, beautiful, classy, (we like classy) and simply stunning, yet at the same time she likes to be a tease and knows just what we like to see.

Name - Sarah
Clothing - Lingerie


Updated 4th March 2014











New hair do, new colour, but happily still the same gorgeous body and furry meaty pussy which is so popular here at LF! It's great to have Honey back!

Name - Honey
Clothing - Jacket & Skirt


Updated 28th February 2014

Miss Catherine wearing tight leather pants and leather jacket loves to show off whilst wearing leather and loves to know you are watching her.




Updated 25th February 2014








Rochelle opened her case and asked if the members would like to see her in leather panties. "Seriouisly?" I asked. She pulled them out and held them up for me to see right in front of my face. I could smell the leather and Rochelle a heady mixture! Of course I said
yes!

Name - Rochelle
Clothing - Lingerie