I've been lucky in so much I have been able to indulge my love of girls in leather and I do know and appreciate how lucky I am and I cannot wait to share all this with you.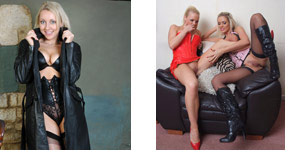 I photograph and video all these beautiful girls wearing leather clothing and without exception each and everyone of them is excited by the thought that you will be looking at them and getting turned on by what you see. They love the feel, smell and atmosphere of leather and know just how much you love it too and all this means you as a member will be excited by each and every update enjoying all the pictures and video I and the girls bring you and we do that every week.
What is really important to a great many members is the fact they are not just members they become my friends. This is not owned by some huge company, it is all mine and I take the pictures and video and upload the pages each update and talk to the girls, so emailing me is getting to the heart of Leather Fixation.